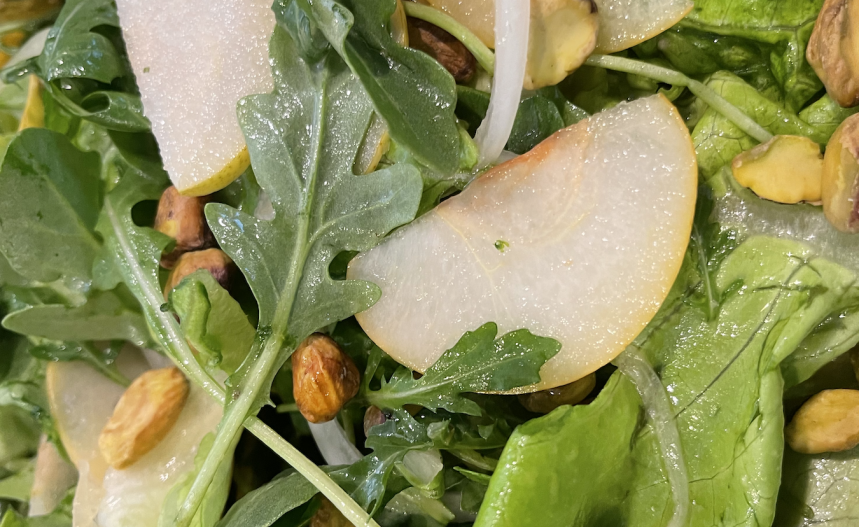 Comments Off

on Asian Pear Salad with Butter Lettuce and Arugula
2 -ounces of baby arugula
3-ounces of butter lettuce
1/2 cup pistachio nuts
1/4 small sweet onions - sliced
1-2 lbs fresh Asian Pears - sliced
3 ounces goat cheese, crumbled
Tangy Lemon Vinaigrette
Juice from 2 large lemons
1 teaspoon local honey
1/3 cup Local Extra Virgin Olive Oil (Preferred Lemon infused EVOO that can be found at Campos Family Vineyards, Mccauley Olive Groves, or Gursky Ranch)
Pinch of salt and ground pepper
For a kick, add red pepper flakes
Directions
This simple and refreshing salad is perfect for lunch, dinner, or a summer gathering. If Asian pears are not easily accessible in your area, you can use pears or green apples as a substitute. For those living in the Bay Area, our local farms here in Brentwood have them available for u-pick between June and August.
If you prefer to shop for your fruits, Asian pears are available at our local farm stands. When making a salad, shopping at our local farm stands and farms will provide you with the best tasting and freshest ingredients.
Asian Pear Salad with Butter Lettuce and Arugula
Prepare the vinaigrette:
In a small bowl, add lemon juice and honey. Slowly whisk in the olive oil. Finally, add salt and pepper to taste. Set aside.
Assemble the Salad:
Place baby arugula and butter lettuce in a large salad bowl. Add onions, sliced Asian pears, and toss. Plate the salad then sprinkle pistachios and goat cheese to the top of the salad. Finally, drizzle the lemon vinaigrette and serve cold.
Footnotes
Cook's Note:

Editor's Note: