Smith Family Farm
Almonds
,
Apples
,
Apricots
,
Apricots
,
Apriums
,
Berries
,
Cherries
,
Citrus
,
Corn
,
Cucumbers
,
Green Beans
,
Herbs Teas & Spices
,
Home Decor Items
,
Honey
,
Melons
,
Nectarines
,
Nectarines
,
Onions
,
Peaches
,
Peaches
,
Pears
,
Peppers
,
Persimmons
,
Persimmons
,
Pistachios
,
Plums
,
Plums
,
Pluots
,
Pluots
,
Pomegranates
,
Pomegranates
,
Pre-Pick
,
Pumpkins
,
Pumpkins
,
Squash
,
Strawberries
,
Tomatoes
,
Tomatoes
,
U-Pick
,
Walnuts
Comments Off

on Smith Family Farm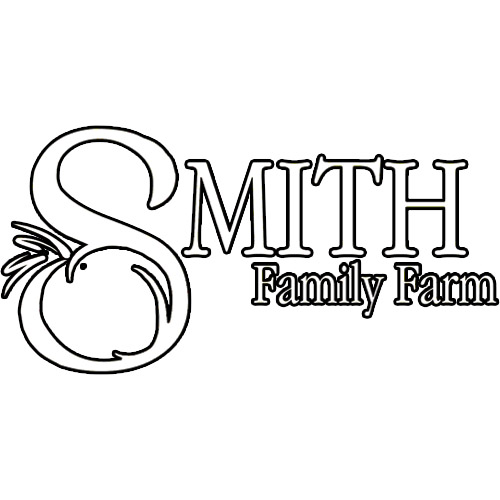 Phone: (925) 625-5966
Address: 4350 Sellers Avenue, Brentwood, CA, 94513
About Smith Family Farm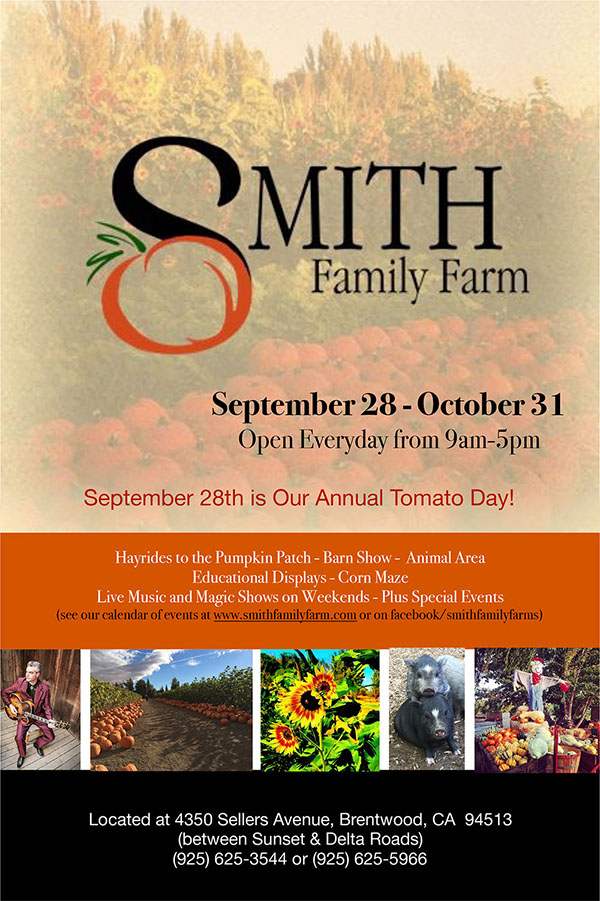 We plan to Open the September 28 through October 31 with Fall Harvest activities throughout the month. The Pumpkin Harvest is much more than just a pumpkin patch. Included in the admission fee are live music performances, encounters with farm animals, an observation beehive, an herb garden where you can make a bouquet to take home, a replica Native American village and a natural atmosphere you can only find on a real, working farm. Our mile-long hayride takes visitors to our pumpkin patch, where each visitor gets their own pumpkin of any size. Pumpkins are free with admission, with additional pumpkins for sale at our fruit stand. Pumpkins aren't the only thing growing in our fields in October. Our award-winning U-Pick is also open with pomegranates and persimmons, while our stand is stocked with a wide selection of Summer and Fall produce, like strawberries, tomatoes, peppers, zucchini, apples, and butternut squash.
Our stand also sells dozens of varieties of rare heirloom pumpkins, haybales and corn stocks for Halloween and Thanksgiving decoration.
Open daily 8am-6pm Over 50 varieties of tomatoes including Heirloom and San Marzano, 15 varieties of peppers, cucumbers, squash, green beans, basil, rosemary, fresh greens and other herbs, eggplant, peaches, nectarines, apricots, apriums, plums, pluots, sweet corn, cherries, apples, pomegranates, persimmons, onions, garlic and citrus. Fresh cut flowers, melons, decorative gourds. Local Honey. Picnic area. Special events and food demonstrations. Fall Pumpkin Harvest: October 1st-31st. Hayrides, live entertainment, farm animals, educational displays, corn maze, sunflower forest, weekend events and more… Farm tours for school children Apr.May.June & Oct. (call). See website for more info. Look for us on Facebook.