Almonds: Nutritious Nuts Grown Right in Brentwood
Comments Off

on Almonds: Nutritious Nuts Grown Right in Brentwood
On National Almond Day, we pay tribute to a nut that provides 6 grams of plant protein, 4 grams of fiber and is a "good" source of unsaturated fats and is nutrients filled. Soak them and extract the liquids and you have almond milk, a nutritious dairy substitute. Ground them up and you have a healthy alternative to flour. Almonds are among one of the most versatile nuts around and have gained much popularity in recent years.
Although almonds grow in 7 different countries, California produces 80% of the world's supply! Did you know that we have hundreds of acres of Almond orchard growing right in Brentwood? The Bloomfield Family has been farming in Contra Costa since 1945, farming on over 100 acres of almonds, 180 acres of wine grapes, 400 acres of alfalfa, 70 acres of wheat, and 50 acres of cherries. Brentwood's geographical location next to the delta, soil conditions and unique climate offers perfect conditions for farming.
Almonds Lifecycle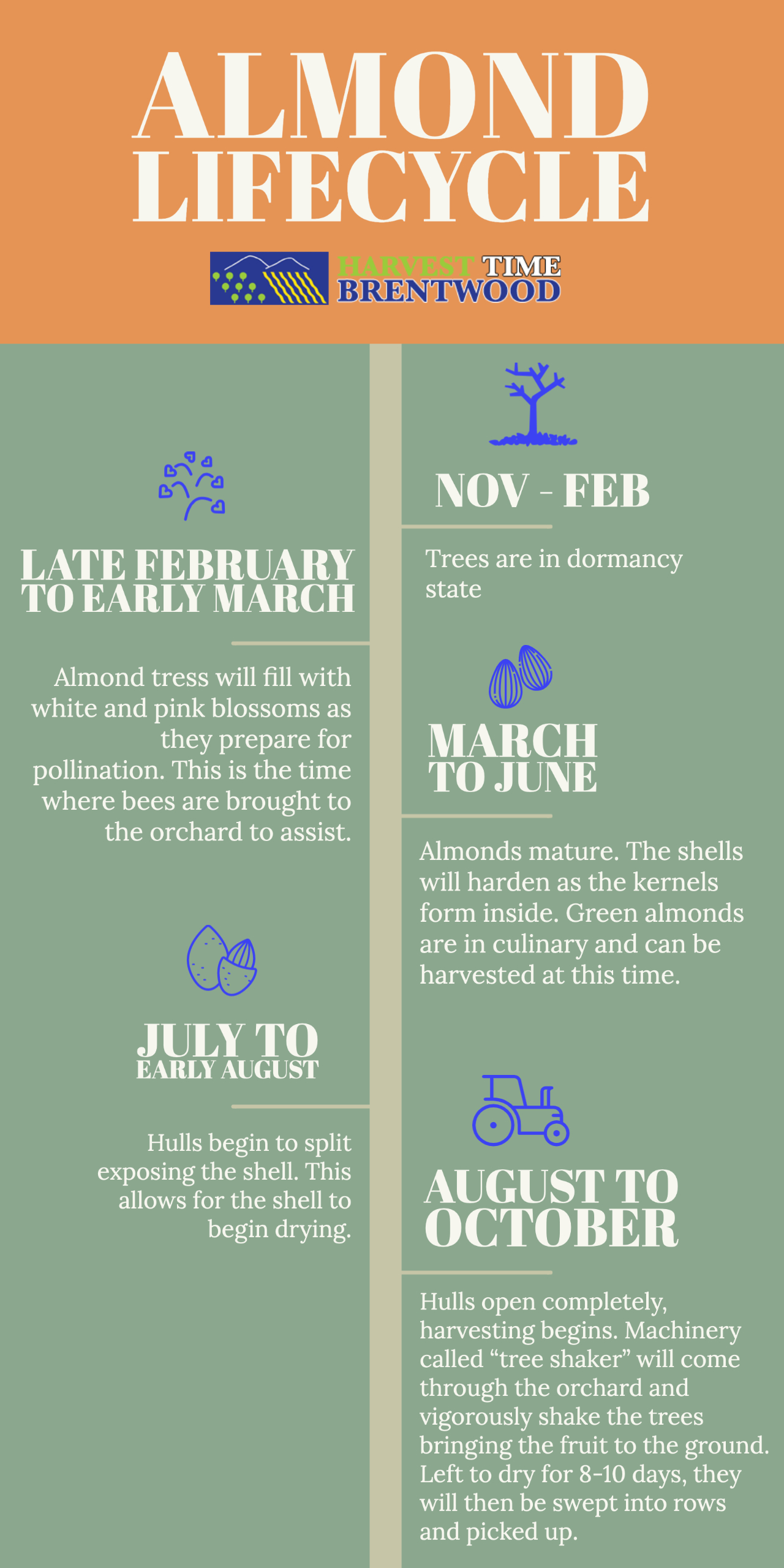 Where can you get Almonds in Brentwood?
Visit our local Country Stores
Gursky Ranch OPEN Tuesday – Sunday 10:00 AM – 5:00 PM

Local honey, pies, dried fruit, nuts, jams, candies, gifts

McCauley Olive Groves Store

OPEN

M-F 10-6 Sat 9:30-5:30 Sun 10-4

Olive Oil, Balsamic Vinegar, Olives, Honey, Eggs, Pies, Nuts, Candies, Pasta, Gift Sets, Spices, Jams and much more
For more information on almonds, visit Almond Board of California