Beyond Fresh Delights: 5 Creative Ideas for Enjoying Fresh Strawberries
Comments Off

on Beyond Fresh Delights: 5 Creative Ideas for Enjoying Fresh Strawberries
When it comes to strawberries, the first thought that comes to mind is biting into the juicy, vibrant fruit in its fresh form. However, strawberries can be a versatile ingredient that lends itself to a multitude of culinary creations. From sweet to savory, these delightful berries can be incorporated into various dishes, adding a burst of flavor and a touch of elegance. In this article, we will explore five creative ideas for using fresh strawberries beyond their traditional role as a standalone snack.
Strawberry Shortcake with a Twist: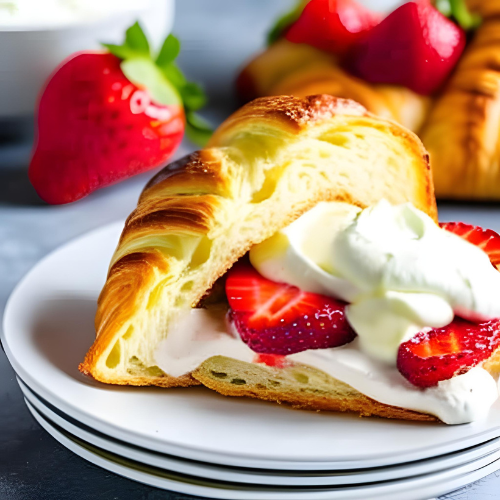 Strawberry shortcake is a beloved classic dessert, but sometimes it's fun to give a traditional recipe a modern twist. By swapping out the usual biscuit or cake base for a buttery croissant, you can create a strawberry shortcake that takes indulgence to a whole new level. Imagine the delicate layers of a freshly baked croissant serving as the foundation, complemented by a luscious layer of whipped cream and topped with an abundance of fresh, juicy strawberries. This delightful combination of flavors and textures will leave you with a dessert that is both elegant and utterly satisfying.
Ingredients:
4 buttery croissants, preferably freshly baked
1 cup heavy whipping cream
2 tablespoons powdered sugar
1 teaspoon vanilla extract
2 pints fresh strawberries, hulled and sliced
Instructions:
Prepare the Croissants:

Preheat your oven to 350°F (175°C) if the croissants are not freshly baked.
If the croissants are day-old or stale, gently warm them in the oven for 5 minutes to restore their freshness.
Allow the croissants to cool slightly before slicing them open.

Whip the Cream:

In a mixing bowl, pour in the heavy whipping cream.
Add the powdered sugar and vanilla extract.
Using an electric mixer or a whisk, beat the cream until it reaches soft peaks. Be careful not to overwhip, as it may turn into butter.

Assemble the Croissant Strawberry Shortcakes:

Take a croissant and carefully slice it open horizontally.
Spoon a generous dollop of whipped cream onto the bottom half of the croissant.
Layer a handful of freshly sliced strawberries over the whipped cream.
Place the top half of the croissant back onto the stack.

Repeat and Serve:

Repeat the process with the remaining croissants.
Arrange the completed croissant strawberry shortcakes on a serving platter.
For an extra touch, dust the tops with a sprinkle of powdered sugar.
Serve immediately and enjoy the delectable blend of flavors and textures.
Conclusion: By substituting the traditional biscuit or cake base with a buttery croissant, you can transform the classic strawberry shortcake into a dessert that exudes sophistication. The flaky, golden layers of the croissant provide a perfect contrast to the velvety whipped cream and the burst of freshness from the juicy strawberries. With its heavenly combination of flavors and textures, this upgraded strawberry shortcake is sure to impress your taste buds and leave you craving more. So why not give it a try and elevate your dessert game with this indulgent treat?
Tangy Strawberry Salsa: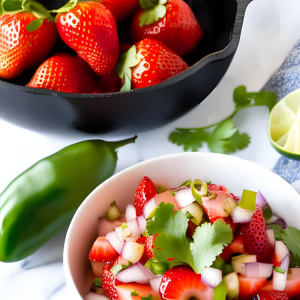 making it the perfect accompaniment for summer gatherings or as a zesty topping for tacos and quesadillas. Get ready to impress your friends and family with this guaranteed crowd-pleaser!
Ingredients:
1 cup finely chopped strawberries
1/4 cup finely chopped red onion
2 tablespoons chopped fresh cilantro
1 tablespoon fresh lime juice
1/2 jalapeño pepper, finely minced (adjust to taste)
Salt to taste
Instructions:
Begin by washing the strawberries thoroughly and removing the stems. Pat them dry with a paper towel.
Using a sharp knife, finely chop the strawberries into small, uniform pieces. Place them in a medium-sized bowl.
Add the finely chopped red onion to the bowl with the strawberries.
Chop the fresh cilantro and add it to the bowl as well.
Squeeze the juice of fresh lime into the mixture. This will add a tangy flavor to the salsa.
If you enjoy a little heat, finely mince half of a jalapeño pepper and add it to the bowl. Remember to adjust the amount based on your spice preference.
Sprinkle a pinch of salt over the ingredients and gently toss everything together until well combined.
Taste the salsa and adjust the seasoning as desired by adding more lime juice, cilantro, jalapeño, or salt.
Serve and Enjoy: Serve the tangy strawberry salsa immediately or refrigerate it for about 30 minutes to allow the flavors to meld together. This will enhance the taste and make it even more delicious.
Pair this vibrant salsa with grilled chicken or fish for a burst of fruity flavors that complement the savory meats perfectly. It also works wonders as a zesty topping for tacos and quesadillas, adding a unique twist to these classic dishes.
Whether you're hosting a summer gathering or simply want to elevate your everyday meals, this tangy strawberry salsa is sure to be a hit. Its combination of sweet strawberries, zesty lime, and a touch of heat from the jalapeño creates a flavor explosion that will leave everyone craving more. Give it a try and prepare to be amazed by the delightful fusion of fruity and tangy flavors in every bite.
Sumptuous Strawberry Salad: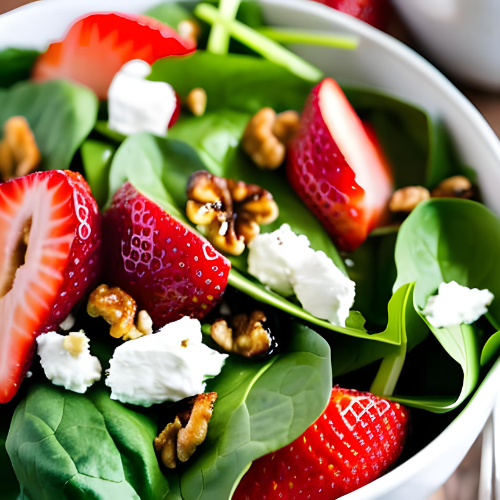 Strawberries have a magical way of adding a burst of sweetness to salads, perfectly balancing out savory and tangy flavors. Get ready to tantalize your taste buds with a refreshing and delightful salad that combines fresh spinach or mixed greens with sliced strawberries, crumbled goat cheese, candied walnuts, and a light vinaigrette dressing. This harmonious blend of textures and flavors will leave you craving more with every bite. Prepare to fall in love with this sweet and savory strawberry salad!
Ingredients:
4 cups fresh spinach or mixed greens
1 cup sliced strawberries
1/2 cup crumbled goat cheese
1/2 cup candied walnuts
Light vinaigrette dressing of your choice
Instructions:
Start by washing the fresh spinach or mixed greens thoroughly and patting them dry with a paper towel.
Place the spinach or mixed greens in a large salad bowl.
Slice the strawberries and add them to the bowl with the greens.
Crumble the goat cheese over the salad, distributing it evenly.
Sprinkle the candied walnuts on top, adding a delightful crunch to the salad.
Drizzle the desired amount of light vinaigrette dressing over the ingredients. Start with a small amount and gradually add more to suit your taste preference.
Toss and Serve: Using salad tongs or two large spoons, gently toss the salad to ensure that the ingredients are evenly coated with the dressing. Be careful not to crush the delicate strawberries.
Once everything is well combined, serve the sweet and savory strawberry salad immediately and enjoy the wonderful medley of flavors and textures. The sweetness of the strawberries, creaminess of the goat cheese, and the crunch of the candied walnuts will create a symphony in your mouth.
Variations:
For an extra touch of freshness, add a handful of mint leaves or basil leaves to the salad.
If you prefer a different type of cheese, you can substitute goat cheese with feta or blue cheese.
Experiment with different vinaigrette dressings, such as balsamic vinaigrette or honey mustard, to find your favorite combination.
This sweet and savory strawberry salad is perfect as a light lunch or a refreshing side dish for any meal. The combination of flavors and textures will impress your guests and leave them asking for the recipe. Give it a try and savor the delightful balance of sweetness and tanginess that strawberries bring to this vibrant salad.
Decadent Chocolate-Dipped Strawberries: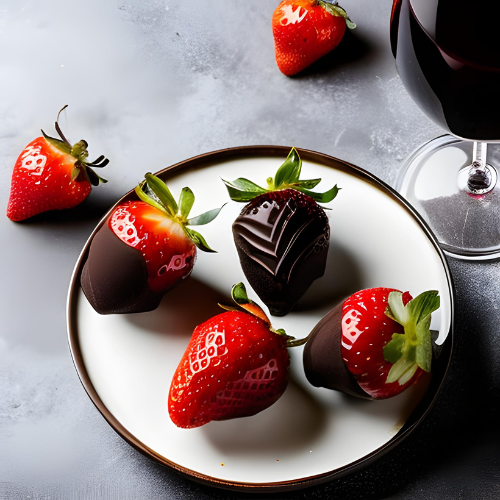 Indulge yourself in a delightful treat that combines the rich flavors of chocolate with the natural sweetness of strawberries. Prepare to create mouthwatering chocolate-dipped strawberries that will captivate your taste buds. With a few simple steps, you can melt your favorite chocolate—be it dark, milk, or white—and dip each plump strawberry into a luscious pool of melted goodness. After allowing the chocolate to set, these delectable bites are ready to be savored. Whether you're planning an elegant dessert, a thoughtful gift, or a romantic gesture, these chocolate-dipped strawberries are sure to impress.
Ingredients:
Fresh strawberries (quantity as desired)
Your choice of chocolate: dark, milk, or white (approximately 8 ounces)
Instructions:
Start by washing the strawberries carefully, ensuring that they are dry before dipping them in chocolate. Pat them gently with a paper towel to remove any excess moisture.
Choose a microwave-safe bowl or use a double boiler to melt the chocolate. If using a microwave, heat the chocolate in short intervals of 20-30 seconds, stirring well after each interval until fully melted. If using a double boiler, fill the bottom pot with water and place it on low heat. Put the chocolate in the top pot and stir continuously until melted.
Once the chocolate is melted and smooth, hold each strawberry by its green stem and dip it into the chocolate. Swirl it around gently to ensure the entire strawberry is coated in chocolate, leaving a small portion of the red flesh exposed for an elegant appearance.
Lift the chocolate-coated strawberry from the bowl and allow any excess chocolate to drip off. You can gently shake the strawberry or use a spoon to scrape off the excess chocolate from the bottom.
Place the dipped strawberries on a parchment-lined baking sheet or a plate.
Repeat the process with the remaining strawberries until they are all coated in chocolate.
Allow the chocolate-dipped strawberries to set at room temperature until the chocolate hardens. This process typically takes about 30 minutes to an hour. For faster setting, you can refrigerate them for 15-20 minutes.
Serve and Enjoy: Once the chocolate has fully set, these indulgent chocolate-dipped strawberries are ready to be enjoyed. Arrange them on a platter or in an elegant box for a stunning presentation. Whether you're treating yourself or sharing them with loved ones, these exquisite bites are perfect for any occasion.
Variations:
For an added touch of elegance, drizzle melted white or dark chocolate over the hardened chocolate coating.
Sprinkle finely chopped nuts, shredded coconut, or colorful sprinkles on the chocolate before it sets for a delightful texture and visual appeal.
Experiment with different flavors by adding a dash of vanilla extract, a pinch of sea salt, or a hint of cinnamon to the melted chocolate.
These chocolate-dipped strawberries are not only a delicious indulgence but also a versatile treat. They can be a centerpiece of an elegant dessert table, a thoughtful gift for birthdays or anniversaries, or a romantic gesture to surprise your special someone. Get creative with your presentation and enjoy the harmonious blend of rich chocolate and luscious strawberries in every bite.
Refreshing Strawberry Infused Water: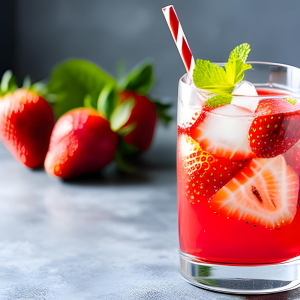 If you're looking to elevate your hydration game and make staying hydrated a delightful experience, try infusing your water with the natural sweetness of fresh strawberries. With just a handful of strawberries and a pitcher of chilled water, you can create a subtly sweet and refreshing drink that will quench your thirst in a whole new way. Let's dive into the recipe and discover how to make this flavorful and hydrating strawberry-infused water. Get ready to sip and enjoy!
Ingredients:
Handful of fresh strawberries
Chilled water
Instructions:
Begin by washing the strawberries thoroughly. Remove the stems and discard any bruised or overly ripe berries.
Slice the strawberries into thin rounds or quarters, depending on your preference. This will allow the flavors to infuse more effectively.
Take a pitcher of chilled water and add the sliced strawberries to it.
Gently stir the water and strawberries to distribute the fruit evenly.
Place the pitcher in the refrigerator to allow the flavors to infuse. Let it sit for a few hours or, for a more intense flavor, overnight.
Serve and Enjoy: Once the water has been infused with the essence of strawberries, it's time to enjoy this refreshing drink. Pour the strawberry-infused water into a glass or a water bottle filled with ice cubes. The chilled and subtly sweet water will invigorate your senses and make hydration a delightful experience.
Variations: Feel free to experiment with different flavor combinations to customize your infused water:
Add a few sprigs of fresh mint leaves to the pitcher along with the strawberries for a minty twist.
Enhance the refreshing factor by incorporating thinly sliced cucumber into the mix.
Squeeze a wedge of lemon or lime into the strawberry-infused water to give it a zesty kick.
The possibilities are endless when it comes to creating your own infused water concoctions. Feel free to get creative and mix and match various fruits, herbs, and citrus for unique and refreshing flavors.
Staying hydrated has never been more enjoyable with this simple yet flavorful strawberry-infused water. Whether you're lounging at home, hitting the gym, or spending a day outdoors, this drink will keep you refreshed and satisfied. So, go ahead and quench your thirst with this delightful twist on hydration!