Update on Cherry Season: Rain Only a Minor Snag at the Start of an Exceptional Season
Comments Off

on Update on Cherry Season: Rain Only a Minor Snag at the Start of an Exceptional Season
The rain may have dampened the kick-off to the U-Pick season, but farmers say it's only an inconvenience in what's expected to be an exceptional cherry season.
Rain, hail and heavy winds, completely uncharacteristic of East Contra Costa's mild May months, saturated local orchards over the weekend. The mild, wet winter was celebrated as being one of the core reasons this year's cherry crops were to be some of the best in nearly seven years. The perfect balance of heavy rains and cool temperatures allowed for a long pollination period. The results are bumper crops with exceptionally sweet, juicy and big cherries. However, rain at the wrong time of year could mean devastation to farmers. Seasonally late rains have the potential to damage crops.
Why Rain Is A Problem
Winter rains help trees remain hydrated, which is one of the important aspects of cultivating a sweet and juicy cherry crop. However, rains that hit once cherries have ripened are a recipe for damaged fruit and lost crops. Rainwater can trickle down through the stem and through the membrane of the cherry. This water can cause the cherry to expand. As soon as the heat hits the cherries, like when the sun comes out after a storm, cherries can expand and crack. Once the fruit is cracked open, it may harm the integrity of the fruit. The cherries most vulnerable to rain are cherries that are ripe, or close to being ripe. This is because the cherry skin is thinnest and most likely to absorb water. For early varieties of cherries, May showers did shut down cherry orchards temporarily while farmers took initiative to preserve their crops.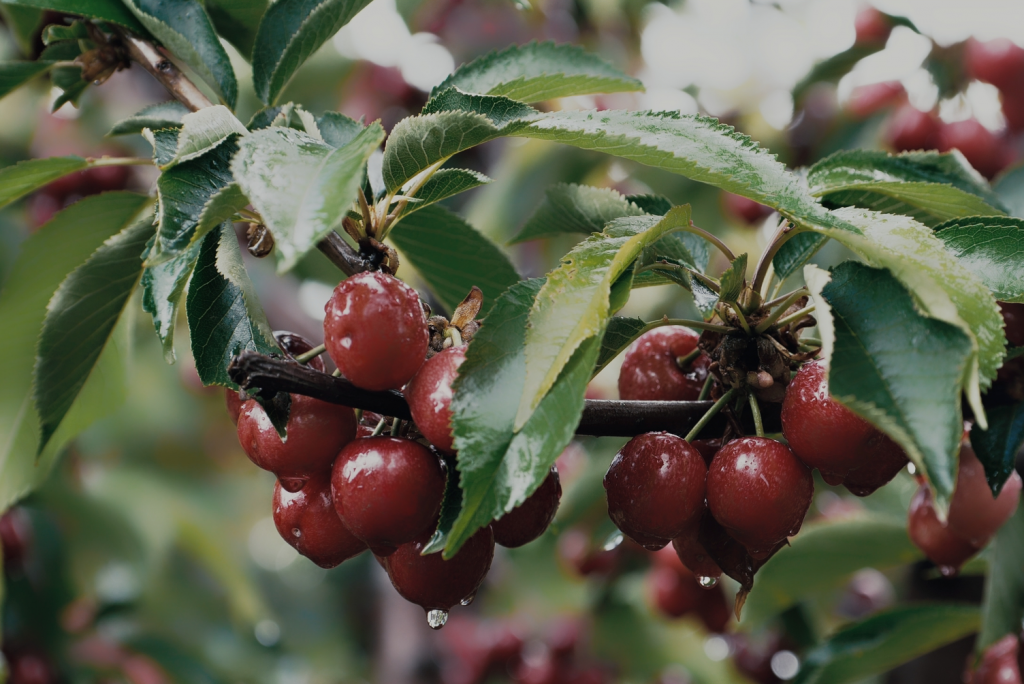 How Farmers Worked To Preserve the Crop
With the forecast for rain and hail, farmers knew they had to be proactive to protect their orchards and cherry crops. To protect the crops, our farmers brought in helicopters! In rainy weather, helicopters hover over orchards and fan the trees. Just like a giant blow dryer, helicopters produce such powerful air streams that any water on the tree, leaves or fruit is blown off. In the case of our orchards, helicopters were placed on standby as soon as news of rain hit. This allows the helicopters to begin drying the Chery trees as soon as weather permitted to fly safely.
The muddy ground also meant closing down the U-pick orchards. First, muddy orchards are difficult to navigate. Second, muddy orchards may expose irrigation equipment that could be damaged, or potentially hurt, a visitor. Third, as much fun as ladders are to climb for people looking for the sweetest, juiciest cherries, ladders in mud can be a hazard. The first step in preparing for rains is taking steps to make sure visitors to the orchards were safe.
Cherry Season Is Just Getting Started
The most exciting news is that with the proactive steps our farmers took to protect our customers and the fruit, this past week of storms is nothing but an inconvenience to the start of cherry season. With an exceptional yield this year, there are still plenty of great cherries, and plenty more on the way!
Our Harvest Time farms grow many cherry varieties ripening at various times from mid-May through July. Since most of our cherries are still ripening, they're less likely to suffer the effect from this rain. This equates to the predicted bumper crop still coming to fruition!
Plan Your Cherry Picking Experience
With the late storms passing, now is the perfect time to plan your U-Pick cherry picking experience. Visit your favorite farm page to learn which orchards are open and what fruit you can expect to find. You can also find directions, hours of operation, and other tips to make your U-Pick experience a great one.
Cherry season started out unconventionally with the rain. But, with the orchards still full of ripening fruit, cherry season will be a memorable one with sweet fruit, fun, and a true U-Pick experience!