Cherry season has arrived!
Comments Off

on Cherry season has arrived!

The long-awaited cherry season has arrived, with a limited number of orchards opening this weekend. "The crop looks really good," said Mark Maggiore of Maggiore Cherry Ranch, #5 on the Harvest Time Farm Trail Map. "The cherries are a little on the light side. Next weekend (May 17-18) will be primo for us."
Different varieties of cherries have different ripening times, so not all orchards will be open this weekend. A lot also depends on the cooler temperatures expected.
"The weather coming up might slow down the crop," said Jessica Enos of 5 Star Cherries, Harvest Time #48. Some orchards could stay open through June.
Joe Ghiggeri of G&S Farms, Harvest Time #11 said, "Hard to justify until we pick. But we haven't had a crop like this since 2012. Seems like all varieties have a very nice crop. The cooler weather over the winter helped the trees stay dormant, extended the pollination period and rain kept trees hydrated. All those factors had made this year promising.."
You can also download a copy of the 2019 Farm Trail Map. Harvest Time's 2019 Farm Trail Map provides information on
60 farms
roadside stands
wineries
stores featuring local farm products.
Printed copies of the map will be available at The Brentwood Press, Brentwood Park and Recreation offices, the Brentwood Chamber of Commerce, and in numerous stores and restaurants. Alongside the Farm Trail Maps will be the new Better in Brentwood brochure listing 50 stores, restaurants, recreational opportunities in the Brentwood area.
Farms Open 5/11& 5/12 for U-Pick or Pre-Picked
Cherry U-Pick Farms
Cherry Pre-Picked Farms
Strawberry U-Pick or Pre-Picked
Cherry Farms open during the week
With more to come in the next few weeks!
Experience Harvest Time in Brentwood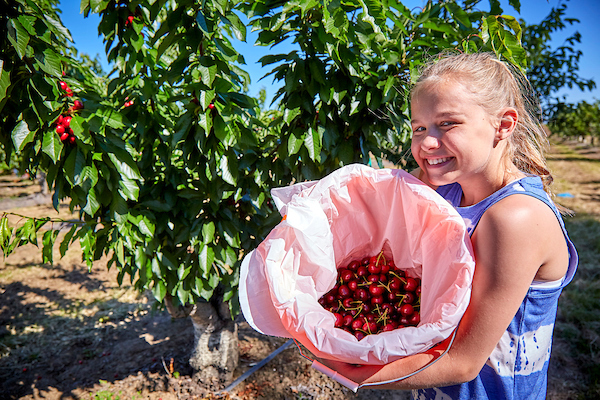 U-Pick is a wonderful experience! Please follow these tips to ensure the BEST U-Pick Experience:
While you're in the area, remember to visit our vineyards and winery offering award-winning wines and our country stores for local products: