Fall Fun at Harvest Time Farms
Comments Off

on Fall Fun at Harvest Time Farms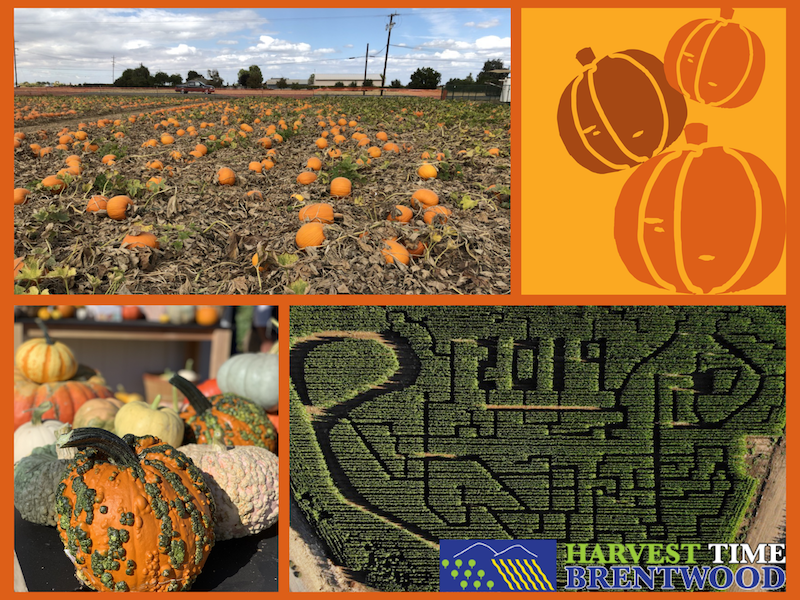 Harvest Time members in East Contra are going all out to provide holiday activities, a bit of learning, and a whole lot of fun for the kids this fall.
From corn mazes to pumpkin patches, from pomegranates to pecan pie, your family can enjoy the best of what fall has to offer without leaving town. Special arrangements can also be made for schools, daycare providers or other youth groups to visit some members' farms for an educational field trip.
Here are some of the things to check out:
Smith's Family Farms
Smith's Family Farms will be open from Sept. 28 to Oct. 31. Their Fall Activities list includes live music, encounters with farm animals, an observation beehive, an herb garden where you can make a bouquet to take home, a replica Native American village and a natural atmosphere you can only find on a real, working farm. A mile-long hayride takes visitors to our pumpkin patch, where each visitor gets their own pumpkin of any size. Pumpkins are free with admission, with additional pumpkins for sale at our fruit stand.
Smith Family Farms' award-winning U-Pick also sells pomegranates and persimmons, and their stand is stocked with summer and fall produce like strawberries, tomatoes, peppers, zucchini, apples, and butternut squash.
For more information, contact them at (925) 625-3544 or (925) 625-5966 or www.smithfamilyfarm.com
The Three Nunns
The Three Nunns Pumpkin Patch. Located at the corner of Vasco Road and Marsh Creek Road, a pumpkin patch with more than 25 varieties, and interactive corn maze are both great activities to explore the farm and let off some energy. There are tractor rides, too, and schools, daycares, and other groups are invited to enjoy a fun and educational group outing.
Also available is a variety of fresh produce, including pomegranates, cucumbers, watermelons, bell peppers, cantaloupes, peppers, and decorative corn stalks and olive branches.
From Marsh Creek Road turn north onto Old Marsh Creek Road and follow the signs until you see the farm stand. Please park along Old Marsh Creek Road or within designated parking areas. Cash or credit cards are accepted. Call 925.550.0870 or visit www.threenunns.com
G&S Farms
Activities are scheduled through Halloween at G&S include their giant corn maze, pumpkin patch, and classes in carving or painting pumpkins. They also offer grade-appropriate education programs and field trips, which include farm tours, one pumpkin per student for take-home learning, and crafts upon request. These customizable experiences tailored to your classroom curriculum and student interests.
A local tradition, G&S (Ghiggeri and Stonebarger) is run by third-generation farmers, who in the 1990s became the first to grow the famous Brentwood Diamond sweet corn, now enjoyed all across the country.
G&S Farms is located at 2490 Sellers Ave. in Brentwood. For more information, call 916.717.8143, or visit www.gsfarms.net/u-pick-pumpkins
Gursky Ranch
One of Harvest Time's original members, Gursky Ranch is a 3-acre farm holdout in the middle of a residential neighborhood. Stop in and pick some pomegranates or walnuts, and pick up a fresh pumpkin for carving or for cooking. There's also a wide variety of gift baskets, or the friendly folks at the Ranch will put something custom for you.
Nuts, dried fruit, and gourmet food items are also available at Gursky's, where they provide not only fall specials, but year-round access to delicious offerings by ordering through their web site or by phone. Store hours are Tuesday through Sunday, 10 a.m. to 5 p.m. For more information, visit (925) 634-4913. gurskyranch.com
Dwelley Family Farms
Growing in Brentwood since 1921, Dwelley Family Farms offers a large variety of organic as well as conventionally grown produce. Organic offerings at Dwelley's currently include 5 varieties of Green beans, sweet corn, summer and winter squashes. Conventionally grown products include Sweet Corn, 5 varieties of green beans, watermelon, cantaloupe, peaches, pluots and much more including the amazing fruit pies. For Halloween and Thanksgiving decorating, come check out their varieties of decorative Pumpkins and colored corn.
This fall, the 5th-generation family farm has extended its season's hours to be open Friday & Saturday 9 a.m. to 6 p.m.; and Sunday from 10 a.m. to 5 p.m. For more information. call (925) 634-6508 or visit https://harvestforyou.com/dwelley-farms/.
Dwelley's address is 515 Delta Road in Oakley.
Click on the map below to view a map of all farms offering Fall Events and Activities.