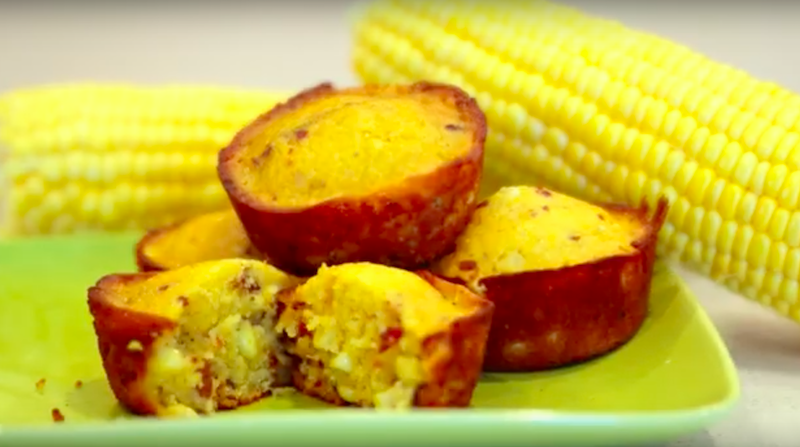 Comments Off

on Corn Muffins made with Brentwood Corn
1 cup of Cornmeal
1 cup of Flour
1/2 cup of sugar
1/2 teaspoon baking powder
1/2 teaspoon salt
1 cup buttermilk
1/4 cup of honey
2 ears of Brentwood sweet corn from our farm stands
OPTIONAL INGREDIENTS:

bacon bits
jalapenos
cheddar cheese
Directions
When you think of Brentwood, it's hard not to think about Brentwood Diamonds, Brentwood's corn label. Growing corn since the 1940s, the cool summer nights and unique Brentwood soil yields
superior-quality sweet corn. Our corn is harvested by hand the day or the evening before, chilled using a hydro cooler immediately to maintain its freshness and brought to our farmstands for locals and visitors to enjoy.
Locally, you can find our corn at the farm stands listed below, or contact our farmers for pick-up.
Corn Muffin Recipe
Using local Brentwood Corn, below is a delicious corn muffin recipe that we are sure the whole family will enjoy.
Pre-heat oven to 375 degrees
Mix all dry ingredients together in mixing bowl
Mix wet ingredients together in mixing bowl
Add dry ingredients to wet ingredients. Only stir until blended. Do not over stir
Fold in corn
Fold in optional ingredients
Either line muffin tin with muffin cups or spray muffin tin with non-stick spray
Use a medium-sized scoop to fill each muffin tin 1/2 to 2/3 full of Mel's muffin batter.
Bake muffins in the oven for 20 minutes.
Take out and enjoy!
Footnotes
Cook's Note:

Editor's Note: